Take Your SEWING Skills To Another Level Of GREATNESS!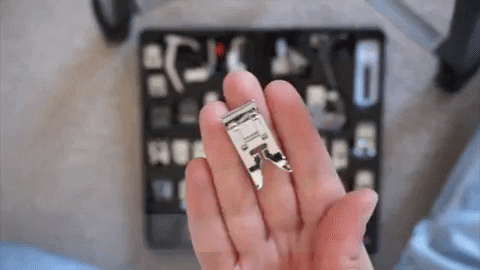 Then this easy-to-use complete set of handy 'snap-on' presser feet will take you there!
This RELIABLE set has a presser foot for every job. It's got every foot you will NEED at one great price. 
SAVE Time & Money
Not only will this set save you time, but you'll get even more 
stunning results
 thanks to the variety and high quality of these feet. Plus, when you buy the whole set, you'll save a fortune by not having to buy each piece individually.
STURDY

&

DURABLE:

Made of Top Quality Materials
This complete kit is a COMPACT, easy to use set. All pieces are made of 100% 
stainless steel
 to ensure the best functionality! 
FITS

Almost Every Sewing Machine or You Can Use An Adapter
All feet fit all sewing machines that have a 
low-shank system
. If you are not sure whether your sewing machine is low shank or high shank, check your owner's manual. If you no longer have it, here is a simple way to check:
Push the presser foot into the down position. Measure from the bed of your machine to the center of the thumb screw. For a low shank, that dimension will be 1/2". For a high shank, it will be 1". If You don't own a low shank sewing machine don't worry! You can always use an adapter. 
THE PERFECT GIFT
This Awesome Set is the perfect gift for any seamstress!
Oh and guess what? SAVE 50% TODAY ONLY 
LIMITED STOCK - Only 50 Units Available
May take 1-4 weeks to arrive due to high demand.
CLICK '

BUY IT NOW

' ABOVE TO GET YOURS
Package Includes:
Braiding Foot

Fringe Foot

5-Hole Cording Foot

7-Hole Cording Foot

Edge Joining Foot (Stitch-in-the-Ditch Foot)

¼" Quilting Foot

Straight Stitch Foot

Open Toe Embroidery Foot

Beading Foot

Zig Zag Foot

Cording Foot

¼" Quilting Foot With Guide

Pintuck Foot 9-Grooves

Pintuck Foot 5-Grooves

Overcase Foot

Stitch Guide Foot

Satin Stitch Foot

Double Welting Foot

Invisible Zipper Foot

Roller Foot

Blind Stitch Foot

Applique Foot

Open Toe Foot

2 Different Darning Feet

Gathering Foot

Hemmer Foot

Round Hemmer Foot

Adjustable Bias Binder Foot

Knit Foot

Adjustable Zipper Foot


Do You Have a Guarantee?
We have a 30-day money back guarantee. If for any reason you are not 100% satisfied with our products, you may return the item for a full refund. We'd like to let you know that our refund rate is less than 3% due to so many happy customers. Simply email our 24/7 customer service on: support@depotnation.com
How Long Will It Take To Arrive?
All orders are sent fully tracked from our nearest warehouse based on your location. Once your order is shipped you will receive an email with your tracking link. 
These are estimated times based on current shipping times* 
United Kingdom, Europe: 7 - 15 business days
USA, Canada: 7 - 17 business days 
Australia, New Zealand: 7 - 17 business days 

South & Central America: 12 - 20 business days 
Orders are processed within 2-4 days then shipped
How Much Is Shipping ?
This product currently has FREE  worldwide shipping for a limited time