Do you have a BAD POSTURE? Are your shoulders rounded from sitting at a desk all day? Is your back always hunched over? Well, you're not alone.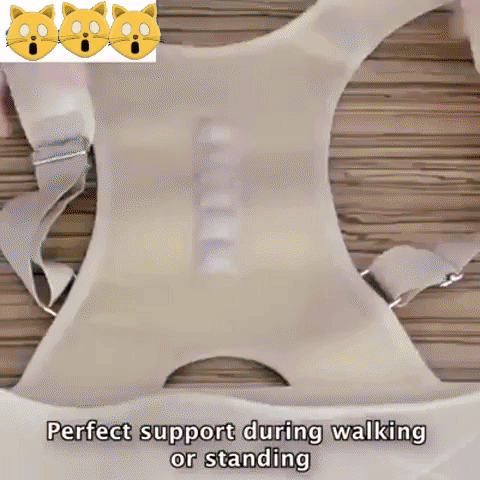 Most people have bad posture. And even more, don't know that they do! Studies have shown bad posture to cause back, shoulder, and neck pains, headaches, poor breathing, digestive issues, depression, and much more.
Do you have these symptoms? Then here's your simple SOLUTION…
The POSTURE CORRECTOR BRACE support belt comfortably wraps around your torso and fixes your posture almost instantly!
Soft, thin, elastic neoprene material makes this COZY to wear, and invisible under your clothing! Simply place your arms through, wrap it around your waist, and tighten the straps until it's firmly in place. 
Feel it start to roll your shoulders back while STRAIGHTENING and ALIGNING your neck and spine back into a natural position. AMAZING! Now, not only will you walk around with your chest up and carry yourself around confidently, but you'll also reduce pain from all over your body!
If you're suffering from bad posture, don't wait until it gets even worse! Get yours by choosing your color and size above, and by clicking the "Add To Cart" button now!
Package Include:
1 x Corrector
Oh and guess what?
SAVE 50% TODAY ONLY. 
LIMITED STOCK - Only 50 Units Available
May take 1-4 weeks to arrive due to high demand.
CLICK 'BUY IT NOW' ABOVE TO GET YOURS
Do You Have a Guarantee?
We have a 30-day money back guarantee. If for any reason you are not 100% satisfied with our products, you may return the item for a full refund. We'd like to let you know that our refund rate is less than 3% due to so many happy customers. Simply email our 24/7 customer service on: support@depotnation.com
How Long Will It Take To Arrive?
All orders are sent fully tracked from our nearest warehouse based on your location. Once your order is shipped you will receive an email with your tracking link. 
These are estimated times based on current shipping times* 
United Kingdom, Europe: 7 - 10 business days
USA, Canada: 7 - 10 business days 
Australia, New Zealand: 7 - 15 business days 

South & Central America: 12 - 20 business days 
Orders are processed within 2-3 days then shipped
How Much Is Shipping ?
This product currently has FREE  worldwide shipping for a limited time